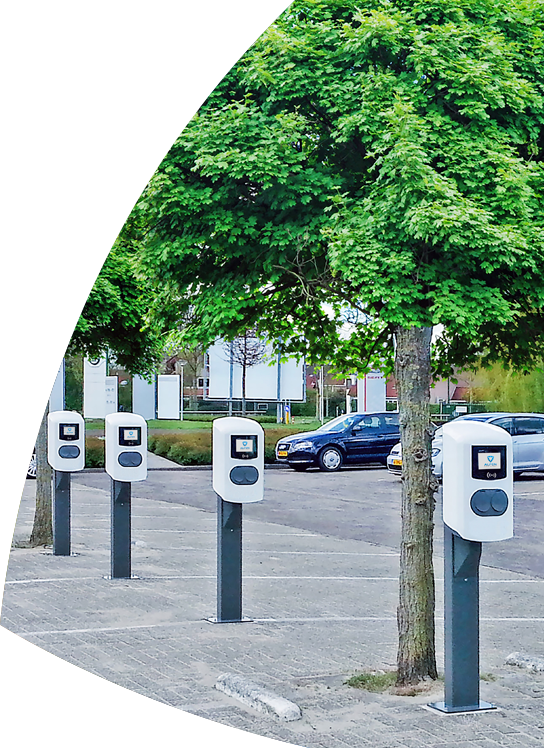 Zintegrowany hub ładowania oraz system magazynowania energii na stanowisku badawczym operatorów sieci ładowania pojazdów elektrycznych
ElaadNL to projekt oparty na współpracy operatorów sieci, łączących swoje siły w celu dogłębnego zrozumienia
infrastruktury dla pojazdów elektrycznych oraz jej przyszłego wpływu na sieć. W 2018 roku w ramach tej inicjatywy został otwarty hub badawczy do ładowania pojazdów elektrycznych w Arnhem (Niderlandy). Umożliwia ono producentom samochodów oraz operatorom sieci zbadanie różnych połączeń pojazdów i
opcji ładowania. Pozwoli to lepiej zrozumieć zależność między
inteligentnymi opcjami ładowania a jakością energii w sieci. Oprócz dostarczenia i włączenia do sieci stacji transformatorowej, przedsiębiorstwo Alfen zadbało również o punkty ładowania pojazdów elektrycznych z dynamicznym równoważeniem mocy.
Firma zainstalowała takze swoje rozwiązanie do magazynowania
energii, umożliwiające efektywniejsze ładowanie w ramach sieci oraz
dostarczające dodatkową moc na potrzeby różnych scenariuszy testowych.